Global Dance Convention
During the April School Holidays, Miss Kaela, Miss Jen and 6 of our students attended a full weekend of classes at Global Dance Convention. Classes included Jazz, Musical Theatre, Lyrical, Contemporary, Hip Hop, Tap, Progressions, Salsa and House to name a few. The teaching staff were 5 teachers/choreographers from LA. They were all thoroughly exhausted but left feeing very inspired and energised. Well done to our 2 GDC scholarship recipients: Casey Houghton and Charlotte Lowery.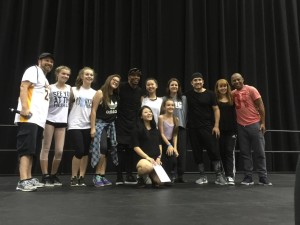 Yennah receives scholarship for 2017
We are extremely excited to announce that Yennah Chang was awarded a $100 cash prize at the conclusion of the 2016 Global Dance Convention as well as being awarded a one-month all expenses paid trip to LA in 2017 for a Summer Intensive and to audition for Adam Parson's youth contemporary company, 'Commonality'. Whilst there she will have the opportunity to audition and showcase her ability before choreographers from all over the US. This is the most amazing opportunity for any young dancer, and we are extremely proud of her!!!!